During the month of October AlteredPages.com is participating in a month-long blog hop with some amazing artists. Everyday you will find a new Halloween project on all of the blogs listed below. Each project must have stamping on it, be it digi or ink. There are prizes to win, be sure to check out all the rules HERE and information on the daily scavenger hunt is posted there! You must go HERE to find the item/s you are looking for the scavenger hunt.
*****
A Note from AlteredPages.com
Thank you all for being a part of this fantastic hop with us! We have a week left and we can't wait to see the rest of the creations from everyone! As a sponsor of the hop, AlteredPages.com has a daily give-away of a collage sheet. We will award all collage sheets at the end of the hop once we have received complete notification from Smeared and Smudged! We appreciate your patience!! Thank you again!
*****
Happy Day 25 from AlteredPages.com!! leslierahye here and I'm sharing with you a Halloween greeting card made from a collage page that has some
fantastic children's vintage greetings
! I layered my digital collage image on G45 Steampunk Spells papers and then mounted on a background page that I had stamped a spiderweb onto. I added Robin's Nest Marquis Dew Drops and edged the layers with Black Ink! I hope you enjoy my card! Be sure to hop to the other stops!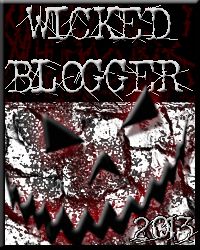 31 Days of Halloween 2013 Wicked Blog Roll
Terra | Black Dragon | Kapree | Shell | Kristy | Susan | Helen | Loren | Alison | Kelli
De Stempelwinkel | Monique | Karen | Airless Chambers | Jane | Jennifer | Emily | Lisa |

Lyneen


Wendy |

Altered Pages Art Sociates

|

leslierahye

| Delicious Doodles |

Roni

| Shoni | Jenn |
DominoART | Jessica | Sandy | Carolyn | Carla | Julia | Steph | Trisha | Brigitte | Lisa | Anna