Jean recently added Crafters Workshops to the store and I couldn't wait to get some and play with all the different ways you can use them. I started with these below--please know this is merely the surface!

For stencil play you will need:
Artist Spackle and card to spread
brush
With one stencil and few different mediums you can attain several looks!
Inky stencil
Spackled stencil
Spackled Stencil with light heating
Spackled Stencil with heavy heating
Stipple Brushed paint
Paint squeegee'd in to Stencil and then heated--to make bubbles
After paint is squeegee'd in, turn over the stencil
and make a print of the painted side.
All these different looks are achieved with just a few different supplies and the same stencil. Don't be afraid to experiment with your tools! What are some of your favorite ways to play with stencils??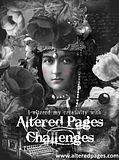 Alter Your Creativity Challenge #6 | Red Heart ~Golden Festival
I used my experiments to produce an art tile for the new challenge at
Altered Pages Challenges
. I hope you enjoy my project!
more supplies:
fabric remnants, ribbon, plastic heart bauble
golden thread, fabric beads, embossed words
cardboard tile